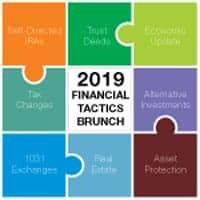 Date & Times
October 19, 2019 @ 8:30 am
VENUE:
Center Club Orange County
650 Town Center Drive, Garden Level




Costa Mesa

,

CA

92626

United States
ORGANIZER:
The Norris Group
Cutting-Edge Financial Tactics Breakfast 2019
Date:
October 19, 2019 @ 8:30 am
Summary:
Join us for our 9th Annual Cutting-Edge Financial Tactics Breakfast on Saturday, October 19 in Costa Mesa, CA with Keystone CPA, Asset Preservation Inc, uDirect IRA Services, and Barthcalderon Attorneys as we explore some of the biggest mistake investors make and how to avoid them.
Details
A market researcher, CPA, and attorney walk into a bar…
For some, it sounds like the start of a silly joke. For those with questions on entities, retirement investing, estate planning questions, or entrepreneurs trying to figure out how to structure deals, it's a dream come true!
Our 9th Annual Cutting-Edge Financial Tactics Breakfast is Saturday, October 19 in Costa Mesa, CA.
Six experts will tackle the most frequently asked questions of 2019 and any major updates you need to know. Then, we'll take a deep dive into audience questions and more advanced topics. Topics will include:
Mistakes with out-of-state entities and risk
New rules affecting self-directed IRA investments in 2019
Advanced 1031 exchange structures and strategies
Recession-proofing your real estate portfolio
Trump tax law changes mean for real estate investors as individuals and entities
And much more (of course)
Please see last year's event on Amazon Prime. We will not have time to cover basic topics! These pros will make time for more questions this year. Great food, awesome networking, and incredible content. You won't want to miss it!
$49 Single/$75 Double

VIP Subscribers, please see email for a special offer on this event.
Contacts:
Bruce Norris 
The Norris Group
www.thenorrisgorup.com
951-780-5856
Dino Champaign
Vice President | Division Manager
Asset Preservation, Inc.
O (866) 857.1031 | C (310) 508.7367 | F (562) 684.0382
apiexchange.com
(800) 282.1031
Kaaren Hall
President, uDirect IRA Services
uDirect IRA Services
(866) 447-6598
udirectira.com
Keystone CPA
Amanda Han & Matt MacFarland
Keystone CPA
Keystone CPA
www.keystonecpa.com
(877) 975-0975
Harry BarthHarry M. Barth, J.D., MBA, MSFS
BarthCalderon Attorneys
BarthCalderon Attorneys
714-704-4828
www.barthattorneys.com