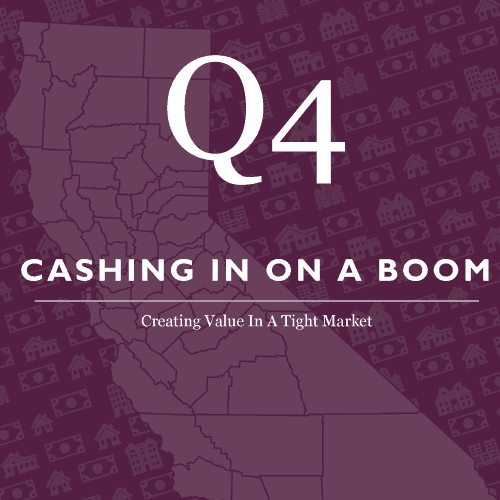 Date & Times
September 14, 2019 @ 8:00 am - 5:00 pm
VENUE:
The Domain Hotel
1085 E El Camino Real




Sunnyvale

,

CA

94087

United States
ORGANIZER:
SJREI
Cashing In On A Boom: Creating Value In A Tight Market
Date:
September 14, 2019 @ 8:00 am
-
5:00 pm
Summary:
Join us as Bruce Norris for Cashing in on a Boom: Creating Deals In A Tight Market. Learn what strategies California investors are using in today's market to find deals.
Details
Having difficulty finding deals? Are iBuyers in your market driving up pricing and your advertising rates? What are some of the creative ways to create deals when it gets harder to find them?
Don't worry! Bruce and Aaron Norris are here to help. They're putting together a full day on strategies that California investors are using to navigate and succeed in the current California market.
"Cashing In On a Boom" on September 14th in San Jose. Here's what's at stake, in Bruce's own words:
"There's no doubt that Wall Street companies will be changing the game in 2019. Investors must expect 2020 will be even more competitive as more iBuyers and real estate technology companies compete for deals. We're studying several new strategies and opportunities to help investors uncover if they are an opportunity of a lifetime or bust." – Aaron Norris
"We're still in Q4. I've been sharing with investors this year that I've been slowing upgrading and strategically 1031 exchanging some of my California inventory out to greener pastures. Investors have some important decisions to make including whether some of these new opportunities might get them stuck should we hit a recession." – Bruce Norris
Opportunity is here! Don't be the investor nail-biting on the sidelines waiting for real estate Armageddon. Investors that have shifted gears know exactly what they have to do to succeed today. Don't miss out! You can do it too. It's not "magic." It's not "luck." It's not even "who you know." Success in this market comes from applying a set of predetermined skills and strategies – or in plain language, "know-how." And it's downright formulaic. Once you have the formulas and are armed with the latest emerging strategies, you'll know how to use them again and again in a market like this one.
At this exclusive one-day event, we're covering brand new information as well as updating key strategies working in today's market. We plan to cover:
Where we're at in the cycle
iBuyers and understanding the "Buy box"
Creating deals when finding deals get harder
Opportunity zone investing
Out-of-state investing and how to know it's time to cash in or stay put
Creating deals others miss
Design 101 for real estate investors (because HGTV ruined everything)
And much more…
And this is where it gets exciting!
Attendees to this one-day event get one full year access to The Norris Group's learning portal. The portal includes Bruce's complete (and growing) California "Only" Investor Series. This series once sold for $3,000. Now, it's all digitized, being updated regularly, and features over 60+ hours of how-to California investor education!
In addition, you'll receive the quarterly TNG Economic Update Newsletter and be able to interact on the live quarterly follow-up webinar where Bruce will take you questions live. We've also got lots of great investor discounts with partners including Wayfair.com, Staples, and LampsPlus. Use just a few of these partners in a year and easily cover the cost of the workshop!
So…this means with a computer, tablet or mobile device and an Internet connection, you can access the entire investor library which includes audio and video recordings of all the strategies. This allows us to hand-pick the most important to focus on for investors in the Norcal area. This means less talking on strategies that don't work and more on those that are working!
Ready to be a millionaire? Attend this seminar! Get crucial concepts, new buying strategies to explore, and even more ways to take your business to the next level!
Single entry ticket includes TNG VIP Membership and all its benefits, live event with manual and lunch will be provided. The double entry includes one portal subscription.
Single Registration: $497
Includes one-year subscription and attendance
Double Registration: $644
Includes one-year subscription for one attendee and two tickets
Double includes ONE subscription.
Call Joey Romero 951-780-5856 with questions.