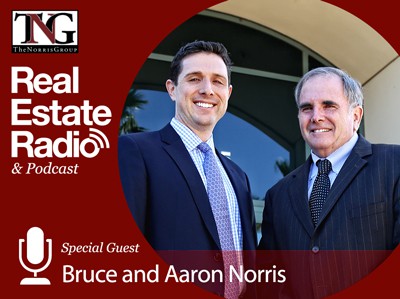 Date & Times
September 27, 2019 @ 8:00 am - 11:30 pm
VENUE:
The Norris Group
1845 Chicago Ave, Suite C




Riverside

,

CA

92507

United States
ORGANIZER:
The Norris Group
Bruce and Aaron Norris Discuss I Survived Real Estate on the Real Estate Radio Show
Date:
September 27, 2019 @ 8:00 am
-
11:30 pm
Summary:
In this week's radio show, we feature The Norris Group's very own Bruce and Aaron Norris.  This is our weekly radio broadcast.  We recorded the show last week and will be covering it on our radio show starting tomorrow.  You can view the transcription and full broadcast here.
Details
This week's radio guests are Bruce and Aaron Norris of The Norris Group. By the time you're listening to this, it will be I Survived Real Estate. This is the show that airs while they're getting the video ready to post on YouTube, Amazon Prime, and a bunch of other places. Right now they're in preparation mode. Aaron developed a huge list, which he will only have at max a half an hour to cover, and it's two pages. He sent it to the panel that he's working with, and it's crazy.
Episode Highlights
In this segment, Bruce and Aaron will discuss the I Survived Real Estate event, who will be featured on the panel, what topics they hope to cover, what makes it unique from other industry events, their biggest concern they have discussed at past events, and much more on the real estate radio show.