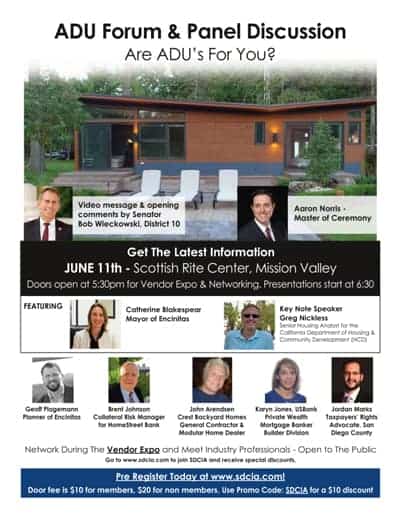 Date & Times
June 11, 2019 @ 5:30 pm - 10:00 pm
VENUE:
Scottish Rite Center
1895 Camino del Rio South




San Diego

,

CA

92108

United States
ORGANIZER:
SDCIA
Are ADUs For You? Accessory Dwelling Unit Forum and Panel Discussion Moderated By Aaron Norris
Date:
June 11, 2019 @ 5:30 pm
-
10:00 pm
Summary:
Aaron Norris will be moderating a panel at SDCIA, where they will be discussing ADUs, what they are, what the rules are, how you can get started, and more.
Details
Join Aaron Norris as he moderates a panel of experts at SDCIA as they discuss ADU units.  Although the concept of an ADU has not changed, the laws and regulations have.  You will want to come hear from the experts to see what your options are if an ADU is right for you.
Expect to learn:
What the rules are per city
What permits are required
How to get started
What is the financial commitment
COST
Use promo code SDCIA for a $10 discount.  Expires June 7.
Featured Speakers
Bob Wieckowski – Video message and opening comments
Aaron Norris – Master of Ceremony
Catherine Blakespear – Mayor of Encinitas
Greg Nickless – Keynote speaker and Senior Housing Analyst for the California Department of Housing & Community Development
Geoff Plagemann – Planner of Encinitas
Brent Johnson – Collateral Risk Manager for HomeStreet Bank
Michelle Rodriguez – Dodd-Frank Committee CA Mortgage Assoc.
John Arendsen – Crest Backyard Homes
Jordan Marks – Taxpayers' Rights Advocate for San Diego County
Read More >