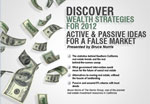 APARTMENT OWNERS ASSOCIATION 2012 WEALTH STRATEGIES
Date:
January 17, 2012 @ 9:30 am
-
12:00 pm
Summary:
Bruce Norris at the Apartment Owners Association in Anaheim for Discover Wealth Strategies for 2012
Date & Times
January 17, 2012 @ 9:30 am - 12:00 pm
VENUE:
Holiday Inn Buena Park
Holiday Inn Buena Park 7000 Beach Blvd Buena Park,

CA

United States
ORGANIZER:
Details
Apartment Owners Association-Discover Wealth Strategies for 2012
Active & Passive Ideas for a False Market
Come hear Bruce Norris speak on discovering new wealth strategies for the new
year.  The discussion will cover active and passive ideas for a false
market.
Other topics Bruce will touch on include:
The statistics behind Southern California real estate trends and the real behind-the-scenes scoop
What government intervention could mean for the future of social real estate
Alternatives to owning real estate, without the hassle of landlording
Passive and secured 9% returns with trust deeds
To find out more information, you can go to the website at http://www.discoversuccess.com/index.php?indOverride=homePage&sdid=418&action=Details
Visit their facebook page at https://www.facebook.com/AOAUSA
Registration starts at 9:30 a.m.
Event from 10 a.m.-12 p.m.