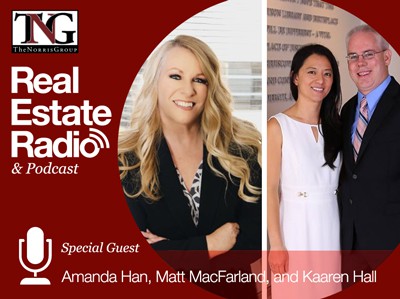 Date & Times
September 20, 2019 @ 12:00 pm - 11:30 pm
VENUE:
The Norris Group
1845 Chicago Ave, Suite C




Riverside

,

CA

92507

United States
ORGANIZER:
The Norris Group
Amanda Han, Matthew MacFarland, and Kaaren Hall Featured on the Real Estate Radio Show
Date:
September 20, 2019 @ 12:00 pm
-
11:30 pm
Summary:
In this week's radio show, we interview Amanda Han and Matthew MacFarland of Keystone CPA and Kaaren Hall of uDirect IRA.  This is our weekly radio broadcast.  We recorded the show this week and will be covering it on our radio show starting tomorrow.  You can view the transcription and full broadcast here.
Details
This week's radio show hosts are both Bruce and Aaron Norris. I Survived Real Estate is next week, and typically within three or four weeks after that, they have the annual Financial Tactics Breakfast. This is the ninth year, which is very difficult to believe, and it has become more popular over time. They started producing it on Amazon Prime. You can see past events that they've done, and it's by far the most sophisticated thing they do when it comes to estate planning.  Aaron always learns a ton. Today's guests on the show are Kaaren Hall of uDirect IRA. She is a longtime friend and board member at the Retirement Industry Trust Association. The Norris Group has an account with her. Joining her are Matt MacFarland and Amanda Han with Keystone CPA. They are real estate all-stars when it comes to CPAs and working with real estate investors.
In this segment, Bruce and Aaron will discuss with them their specialties of CPAs and IRAs, alternative assets in IRAs, retirement account money and whether it is bulletproof,  checkbook LLCs, the beneficiaries of last year's tax changes, plus much of what you will hear about at the Financial Tactics Breakfast in October. That and much more on the real estate radio show.