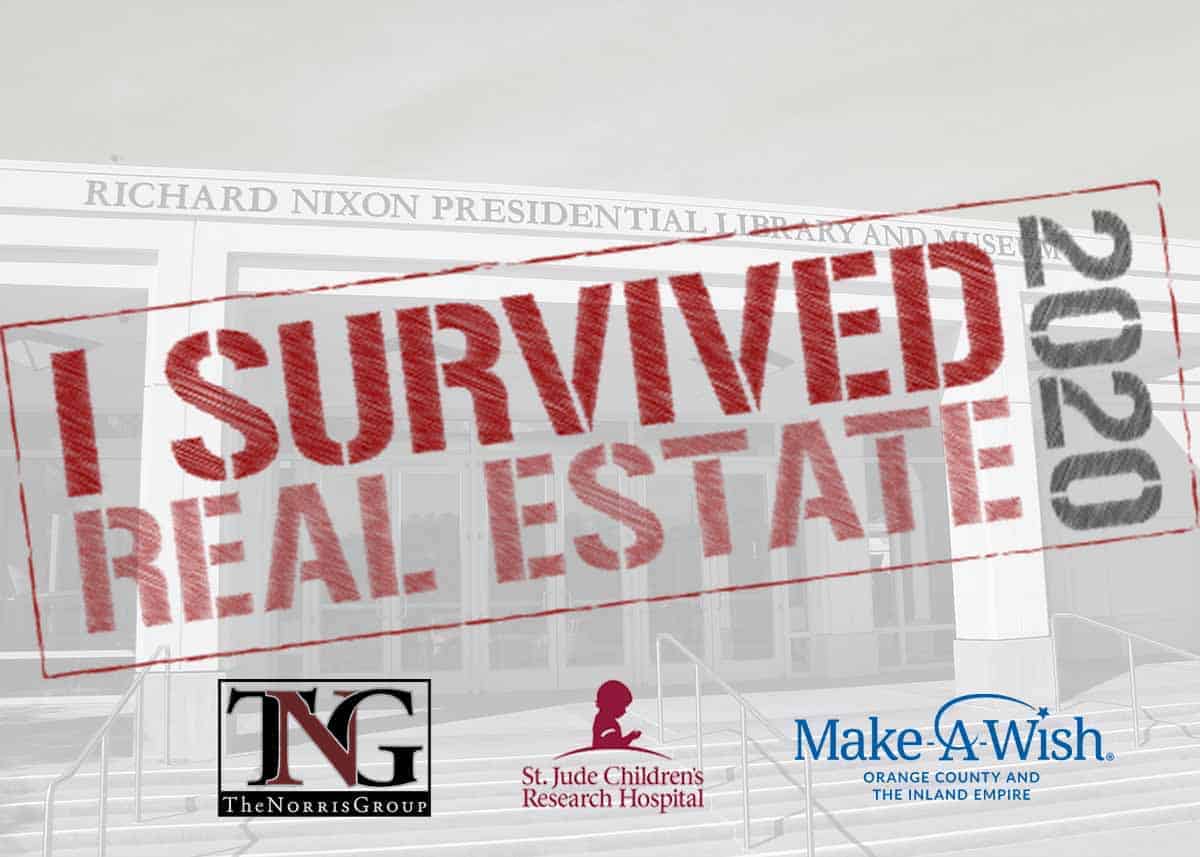 Date & Times
December 25, 2020 @ 8:00 am - December 31, 2020 @ 5:00 pm
VENUE:
ORGANIZER:
I Survived Real Estate 2020 National and Commercial Townhall Part 4
Date:
December 25, 2020 @ 8:00 am
-
December 31, 2020 @ 5:00 pm
Summary:
Details
The Norris Group proudly presents it's 13th annual, award-winning black-tie event, "I Survived Real Estate". Industry experts join Bruce and Aaron Norris to discuss perplexing industry trends, head-scratching legislation, and opportunities emerging for real estate professionals headed into 2021. All proceeds from the event benefit Make-A-Wish and St. Jude Children's Research Hospital.
This episode features Terry Burger of 7 Figure Flipping and Tom Wilson of Wilson Investment Properties.
Platinum Partners:
Norada Real Estate Investments
San Diego Creative Investors Association
The Outspoken Investor, Tony Alvarez
Think Realty Magazine
Wilson Investment Properties
Realty 411
Gold Sponsors:
7 Figure Flipping
Inland Valley Association of Realtors
Keller Williams Corona Keystone CPA, Inc.
Las Brisas Escrow
Leivas Tax Wealth Management
NorCal REIA NSDREI
Pasadena FIBI
Real Wealth Network
In A Day Development
Spinnaker Loans
uDirect IRA
See below for the full video and resources.
Episode Notes:
Narrator  Welcome to The Norris Group's 13th annual I Survived Real Estate Gala. The Norris Group would like to thank the following Platinum Partners: Norada Real Estate Investments, San Diego Creative Investors Association, The Outspoken Investor Tony Alvarez, Think Realty Magazine and Realty 411. We'd also like to thank our Gold Sponsors: Seven Figure Flipping, Inland Valley Association of Realtors, Keller Williams Corona, Keystone CPA, Inc., Las Brisas Escrow, Leivas Tax Wealth Management, In a Day Development, NorCal REIA, NSDREI, Pasadena, FIBI, Real Wealth Network. SoCal Cash Flow, Spinnaker Loans, and uDirect IRA.
Aaron Norris  I want to follow up with a question. Institutional money, there's a lot of rumors that the media is like they're all raising money because the foreclosures are gonna pile on, my God, where? It is my theory that they are planning on spending that money in the build to rent model, would you agree? Is that where a lot of the institutional players are going to play?
Neal Bawa  Yes, but not by choice. I think that people have raised money, and now they don't know what to do with it. So, we've got so many funds that by this time we're expecting to see something in that market. I think they're not gonna see anything for six months, and they may never see it, we'll see. Right? There, I think that there's still a significant number of foreclosures coming. But I think that they're gonna, there's the, the people that raise large amounts of money, they need to see a very large amount of distress because they need to go to a bank and buy 20 or 30 properties, not one at a time, because they're never, they'll never spend even 5% of the money. So, they're going to build the rent, not by choice, but simply because the money has been raised and built around is the closest thing that they can do. So, we're seeing. So, for an asset class, that's two years old bill to rent is now the lowest cap rate asset class in the United States, even lower than data centers, even lower than medical. And the reason people are doing it is it combines the benefits of single family where you have, you know, a lot family staying for the long term. So, you don't have apartment like churn, your maintenance costs are lower, and you're buildingnew products. So, your maintenance is low anyway, but it has the benefit of scale as well. So, I think that, we think that, that's the big winner for the next 10 years. It's a brand-new asset class. People have been doing, you know, building stuff, but they haven't done it at scale. Where do we do it? I think we do it in places like Houston, we do it places in Florida for sure. Atlanta, we're gonna see it in places like Huntsville, Alabama, where, where the Huntsville market is booming because of all the other markets around the booming. So, we're seeing a humongous number of trends in that marketplace. And yes, institutional money is going in there because they raised it and now, they can service that money.
Aaron Norris  One specific question, are some of the rental vacancies in San Francisco due to Airbnb and Vacation Rentals being turned into long term rentals?
Neal Bawa  I think they'll, they'll have to, um, I can tell you that the distress in the San Francisco multifamily market is massively greater than 2008. 2008 was absolutely nothing compared to what we were seeing, New York is even worse. So, it's, there is a market worse in San Francisco right now from multifamily perspective. And it's New York, they are seeing record level of vacancies, record level, record levels of concessions, I don't think that these markets will, will come back very quickly. So, I do think that there's going to be some interesting twists and turns that we're going to see. The Airbnb market was very highly leveraged. A lot of this stuff was purchased at very expensive prices in the last two or three years. They need that revenue; they need to pay massive mortgages. And given how slow the markets been to come back on that side, you're going to see some pivots. It's inevitable. But I think that what's interesting is we're not seeing such price drops on the rental side in the single-family San Francisco market. So, if you take an Airbnb and you pivot, you're actually not in as bad of a market. It's the multifamily market, especially high-density multifamily market that's really suffering in San Francisco. So, there's actually, once again, you know, Tom said, don't look at the 30,000-foot view, this, if you have a single-family rental in San Francisco, you're not doing too badly. So, maybe we'll see some pivots from the Airbnb side.
Aaron Norris  Okay, well, we're starting to get some questions. Dad, that you might have some things that you had in mind.
Bruce Noris  Well, let's, let's let the, let's let the group ask questions. And I'll maybe ask one later.
Aaron Norris  Okay. Is international, this could be anybody, is international money coming to us? Where is the money going? I don't know if anybody has a lot of foreign investors coming their way but doubted, probably China?
Neal Bawa  I have just one data point. So, international investment in the United States has dropped 50%. We think it's a short-term trend, because the, the when surveyed, by far, almost every investor said inability to travel is the primary reason not because we're afraid of the US market. So, the lack of travel means that we've seen a 50% drop at this point that those were, those were September numbers. So, we've still seen a 50% drop. The Canadian market is the one that's, that shrunk the most in terms of foreign investment. Well, investors coming in from Canada that's been affected the most I'm not sure why because their travel is actually the easiest. But I think, I think it's a short-term trend. I do think that, that money will start to flow again.
Tom Wilson  I think it's; I believe it's very, very short term. We, were under negotiations for a product now in Florida. That is being sold by someone in Canada. And the reason, because their principal likes to be hands on. And every time they come down to see the property when they go back, they're facing a two-week quarantine. So, that's why they're selling it.
Aaron Norris Go ahead.
Kathy Fettke  We are very luckily sold a 250-unit apartment building in Mountain View in January to a Korean company and, but we had put it on the market. We had like lots and lots of offers from Chinese firms over the summer, and we weren't quite ready to sell it. And then by the fall, they were all gone. There was only the Korean company left. So, I think it was part of the Chinese policy, they were pulling back their investment in large assets like that in the US. I don't I don't know where that will be headed. Next year, but, I'm really, really glad we sold that.
Aaron Norris  Agreed. This is a really good question. You know what, and maybe I'll throw this one out. You, Terry, do you think there are lots of people who will be forced to walk away from their homes when forbearance ends? With the end of forbearance, what amount of subject to volume do you think lenders will tolerate? And do you see your team sort of talking about those kinds of things?
Terry Burger  Yeah, we're definitely talking about subject to opportunities. I think. So, I think when people walk away from, forced to walk away because of forbearance, and they can't catch up, right, let's just assume that's, that's the way this whole thing goes down. My assumption is most of those people have equity. And they'll just decide to sell their home. And there won't be foreclosures, by and large, because they've got equity in their home. You know, I'm not sure what the exact stat is today. But that equity ratio is pretty high.
Aaron Norris  Yeah, what do you call a short sale when it's not a short sale and have the money they just can't make their payment?
Terry Burger  Yeah. Spread out margins now.
Bruce Norris  Now, they call it a listing. Yeah.
Aaron Norris  There you go
Bruce Norris  You know, what's interesting about that policy that you brought up subject to when we were in Washington, DC, we did meet with FHA at the time, Raphael Bostic was the man in charge of that. And he and I were across the table and I, I said, what do you think of the subject to? And he said I'm all for it. And I was surprised by that. I said, what can you put that in writing for me? And he smiled, he said, No, I can't do that. But he understood the concept was smart because it would avoid a lot of foreclosures.
Tom Wilson  Although securitize alone is what made that difficult, right? Because it got, got sliced up and spread out. And now they can't go back to get everybody to agree. So, you got to do it. You know, undercover.
Bruce Norris Under the table.
Tom Wilson  Just hope nobody finds out but usually done
Bruce Norris  Okay.
Kathy Fettke  I mean, if I were going to put my bets on it, I would think that banks would be looking at loan modification for those forbearances because these people met, most of them, it was no fault of their own. I mean, if you, if you wanted to start your business up again, you, you weren't allowed. In LA, they would just shut your power off. You're just literally weren't allowed. So, how can you be faulted for that? I just, I think it's gonna go into modification.
Tom Wilson  I agree that if they were ever time to get a pass, right.
Kathy Fettke  I don't know.
Aaron Norris  Nationwide pandemic. Yeah.
Kathy Fettke  I think Newsom or there's some talk about. They didn't. And I always wondered why this wasn't happening in 2009. But Newsom just said that he won't that homeowners will get first dibs on those properties and not the funds that they won't be able to sell in bulk that homeowners should get the first shot, which makes sense.
Aaron Norris  I just don't know why after the foreclosure just makes no sense. Like why not do that before it goes through?
Kathy Fettke  Right. Right.
Aaron Norris  We tried. Question. Any data on cashout refi or HELOCs?
Terry Burger  Any data?
Aaron Norris  I don't know. Let's go tell me more. Tell me what were you looking for? I have a question for you.
Bruce Norris  Well, I think she's trying to, I think she's trying to wonder if they're like 2004, or five and six, we were cranking out hundreds of millions of dollars.
Aaron Norris  Right? People have equity, and they're not behaving the same way, buying up toys like they were back then. Right?
Bruce Norris  That's right now it's been very muted. So, the amount of equity has never been greater. That's why really, really hard to conceive of a foreclosure crisis with the amount of equity because if you go to a trustee sale, you know, bidders are not trying to buy those at 60 cents on the dollar anymore. So, very, very few of those would actually make it to the REO status. So, and that's where you really have price damages when that becomes the dominant inventory for sale. I just don't see how that's possible.
Aaron Norris  I wanted to ask a question about quality of life. You know, getting to think about people from the tech space getting to move I talked to some realtors I mentioned last week moving to San Diego from the Bay Area or Palm Springs because it was close to an airport if they absolutely had to be up north for a meeting, you know the amount of money that they can save still living in a very high quality of life. They could they could easily buy a ticket back and forth many, many times a year to make that happen. But quality of life of education isn't going to matter as much people could have hop on zoom and be educated, whether it be K through 12, or through college. What does that look like? As we're exploring secondary and tertiary markets? What's the quality-of-life piece that we're looking for where we don't think this is a flash in the pan? Are people really going to move to Blythe? Mentone?  Is that like, that's like a good like, I'm going to go there and really love that market or I don't know?
Kathy Fettke  I got to say one thing, Aaron, we've been, we've been helping investors buy in tertiary markets for 15 years. And that includes, like, well, it there's little areas called Butler County in between Cincinnati, and Cleveland. And that area, prices have been going up. Prices have been 20% over asking price over the last six months. So, massive, this Butler County, okay? In Ohio, so, and so, I think what's happened personally, that in the tertiary markets, builders just weren't going there. You weren't going to make any money as a builder in, in Cincinnati. You know, if you're, if you're going to build a house and sell for $200,000, where's your profit? So, they were going to New York, and they were going to San Francisco, and that's where they're, they're building. So, a lot of these tertiary markets do not have inventory, because there it just wasn't built. And people are moving back home. I mean, if I were, if I had to work at home with two young kids, I'd be moving back near mom and dad so they could take the kids out of the house so I could get some work done, right? I mean, that I think that's part of what's happening.
Neal Bawa  Absolutely.
Aaron Norris  I have written down your summer garage-ification. I've noticed more people in garages these days, like the kids are doing school inside it.
Tom Wilson  As far as they're being, everything can be done online. You would think if there's anyone that would want to do that it would be millennials right, and enter in the summer going to Santa Clara University in elite school. And he, they decided not to open a campus and they were going to do online training. He opted out for the semester. He said, No, I'm not going to have my parents pay this kind of money and have a non in class, human relationship, you know, experience. So, he opted out. I think 20% of Harvard's freshmen students this year, skipped the semester, because they were doing online that not open the campus.
Aaron Norris  Wow.
Kathy Fettke  On the other hand, in San Diego State, the cheap school where I got my kids to go, Hey, they are living together in houses and they are having a blast. And they're they're studying together. And my daughter's got straight A's and, and they're still, you know, having a college experience. And so, I've heard that a lot of the housing around the colleges is booming, because kids can go there and live and get away from mom and dad and live together.
Aaron Norris  And let's be honest, the parents also are very.
Kathy Fettke  Very happy.
Aaron Norris  To have them out of the house I've heard that, I have heard that. They're not staying in the dorms. The kids are moving into the local housing, that's housing.
Kathy Fettke  Yeah, they renting houses and piling in there.
Aaron Norris  Lenska brings up another great question that we can definitely round robin any real-life examples of converting malls or strip centers into different spaces.
Neal Bawa  It's a, it's really difficult. The price point for malls is such that most asset classes are priced out you can't do industrial. So, it's, it's going to be very interesting. I think that you know, in certain expensive markets, if the city allows you to build above the model, and there's plenty of parking,