Norris Bruce
Feb 05, 2019
Do You Smell That?….Nope!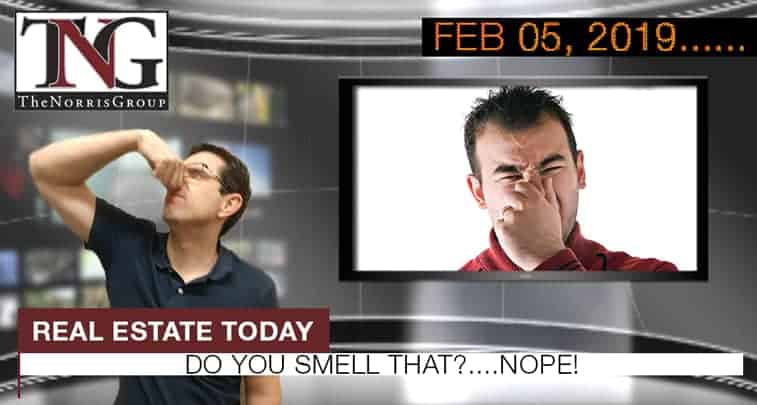 Today's News Synopsis:
Are you "Noseblind" to your house?  Home prices increased 4.7% year-over-year in December according to CoreLogic.  Forbes gives some advice on how you can invest your real estate in Florida.
In The News:
Redfin – "Homes Staying on the Market for a Month Longer Than Last Year in San Jose, Portland, and Seattle" (2-5-2019)
"Homes for sale are taking longer to find buyers this January for the first time in three years. Typical home nationwide was on the market for 55 days, up
from 54 last year."
Realtor.com – "How to Tell If You've Become 'Noseblind' to Your Home" (2-5-2019)
"Ever walk into someone's house and immediately notice a funky smell? Your first thought is usually something like, "Do they not smell that?" Nope, they probably don't."
Zillow – "Home-Value Surge After Facebook IPO Provides Insight For 2019" (2-5-2019)
"Facebook's IPO led to a wealth boom in the San Francisco Bay Area, and home values grew faster in places where likely Facebook employees lived than in the surrounding region, according to a new Zillow® analysis."
Forbes – "How To Invest In Florida Real Estate" (2-5-2019)
"Much like California, Florida has often been the land of investor dreams – and investor heartache.  A potent mix of retirees, snowbirds, job-seekers and foreign investors has swung home prices to ridiculous highs and stomach-churning lows more than once in the past."
National Real Estate Investor – "The U.S. Apartment Sector Would Continue to Remain Strong Even in a Recession" (2-5-2019)
"Even if there is an economic downturn in the near future, the apartment sector is likely to hold up, according to industry experts."
CoreLogic – "CoreLogic Reports December Home Prices Increased by 4.7 Percent Year Over Year" (2-5-2019)
"CoreLogic® (NYSE: CLGX), a leading global property information, analytics and data-enabled solutions provider, today released the CoreLogic Home Price Index (HPI™) and HPI Forecast™ for December 2018, which shows home prices rose both year over year and month over month."
Money – "13 Rules You MUST Follow When Buying a Home" (2-5-2019)
"Folks used to say, "You can't go wrong with real estate." They sure don't say that anymore. It's been a rollercoaster dozen years for home prices—and some experts think another rough patch is in the offing."
Chicago Tribune – "What to do when you bought too much house and hate where you live" (2-5-2019)
"Renting your home might be a helpful solution as you wait for sale prices in the area to increase."
Looking Back:
Was your kitchen making you fat?  Both foreclosure starts and sales were at their lowest since 2000 according to Black Knight with starts at 649,000 and sales at 232,000.   Fitch ratings released their list of the top ten cities they expected to see home values rise.
More on Hard Money Loans
Information on Note Investing
Real Estate Investor Education & Resources