Norris Bruce
Sep 03, 2019
Deal Would Cap Annual Rent Increases At 5% Plus Inflation and 10% Max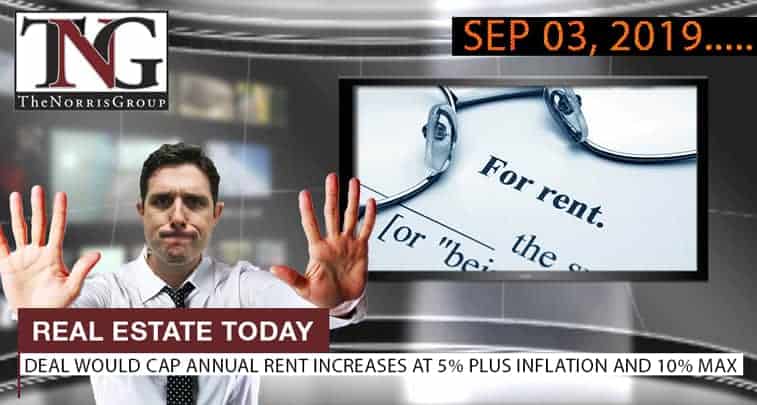 Today's News Synopsis:
California governor announces deal to cap rising rents.  Home prices increased slightly in July by 3.6% year-over-year.  Which age group is driving home prices up again?  Believe it or not, it's the older millennials.
In The News:
HousingWire – "Artificial intelligence in residential real estate: Reality or hype?" (9-3-2019)
"Every few years, the vast technology industry gets animated by one concept. This concept need not be brand new – often new packaging suffices to kick in the Silicon Valley hyperbole machine."
Realtor.com – "Unconventional Mortgages Attract Warning From Regulator" (9-3-2019)
"A type of unconventional mortgage that focuses on a borrower's assets to vet repayment ability has drawn a warning from regulators for banks to maintain tight underwriting standards."
CNBC – "Older millennials are driving home prices higher again" (9-3-2019)
"They may have waited longer than previous generations, but millennials are now showing a strong desire to become homeowners, especially older millennials."
CoreLogic – "Home Price Increases Nudged Up In July" (9-3-2019)
"National home prices increased 3.6% year over year in July 2019 and are forecast to increase 5.4% from July 2019 to July 2020, according to the latest CoreLogic Home Price Index (HPI®) Report."
ATTOM Data Solutions – "Top 10 Census Tracts in Opportunity Zones with Median Home Prices Above $500K and Below $200K" (9-3-2019)
"A new report by ATTOM Data Solutions analyzes qualified Opportunity Zones established by Congress in the Tax Cuts and Jobs act of 2017."
California Association of Realtors – "C.A.R. statement on rent cap bill" (9-3-2019)
"The CALIFORNIA ASSOCIATION OF REALTORS® supports policies that increase the housing supply for rent and ownership. The proposed version of AB 1482 headed to the Senate Floor will not incentivize production of rental housing or help more people find an affordable place to live. It discourages new rental housing, which is why C.A.R., representing more than 200,000 real estate agents and brokers across California, strongly opposes it."
AP News – "California governor announces deal to cap rising rent prices" (9-3-2019)
"California Gov. Gavin Newsom reached a deal with apartment owners and developers Friday on legislation that would cap how rapidly rents can rise as the state grapples with a housing crisis."
Mercury News – "If commercial property taxes increase, will California companies stop hiring, investing?" (9-3-2019)
"Last week I delved into a subject best discussed in private – politics. Specifically, taxes and your tenancy."
Forbes – "The Surprising Way Real Estate Agents Are Adapting To "iBuyers" Buying Houses Directly From Sellers" (9-3-2019)
"One of the biggest trends in the residential real estate industry in recent years has been the introduction of the so-called "iBuyer" companies like Opendoor, OfferPad and Zillow Offers that buy houses directly from homeowners and then resell the houses."
Bruce Norris will be presenting his latest talk 10 Decisions To Make Before The Next Downturn with SDIC on Thursday, September 5.
Bruce Norris will be presenting his latest talk 10 Decisions To Make Before The Next Downturn with SJREI on Thursday, September 12.
Bruce Norris will be presenting Cashing In On A Boom: Creating Value In A Tight Market on Saturday, September 14.
More on Hard Money Loans
Information on Note Investing
Real Estate Investor Education & Resources