Norris Bruce
Sep 12, 2018
Combine A Strong Economy, Low Unemployment And The Size Of The Biggest Homebuying Generation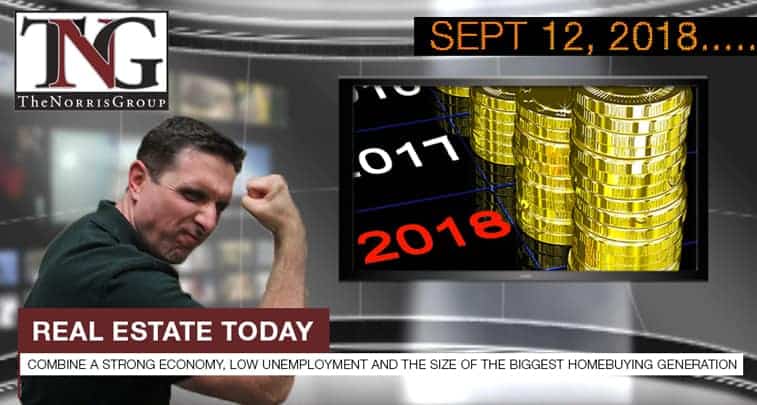 Today's News Synopsis:
The housing market is in an absolute perfect storm for demand.  Household income increased 1.8% last year according to the latest data from the Census Bureau.  Migration to lower-tax metropolitan areas is increasing as more people are looking to move from the expensive coastal areas.
In The News:
Bloomberg – "U.S. Household Incomes Rose 1.8% in 2017; Disparities Persisted" (9-12-2018)
"The U.S. median household income rose in 2017, while the poverty rate declined amid solid growth and job gains in the world's largest economy, Census Bureau data showed Wednesday."
Redfin – "Migration to Low-Tax Metros is Accelerating as More People Looked to Leave Expensive Coastal Areas in the Second Quarter" (9-12-2018)
"In the second quarter of 2018 people in expensive, high-tax coastal markets including San Francisco, New York, Los Angeles and Washington, D.C. searched for homes in metros like Phoenix, Las Vegas and Miami, where taxes are lower and housing is more affordable."
Mortgage Bankers Association – "Mortgage Applications Decrease in Latest MBA Weekly Survey" (9-12-2018)
"Mortgage applications decreased 1.8 percent from one week earlier, according to data from the Mortgage Bankers Association's (MBA) Weekly Mortgage Applications Survey for the week ending September 7, 2018."
ThinkRealty – "FHA Loans Shifting Toward Lower-Credit Approvals" (9-12-2018)
"Underwriting standards appear to be loosening for FHA loans according to a new report from credit developer FICO. The report indicated that borrowers with FICO scores dipping down into the 400s rose from 21.9% in 2009 to 29.7% in 2017."
Forbes – "Sherwin-Williams Reveals 2019 Color Of The Year" (9-12-2018)
"Sherwin-Williams revealed its 2019 Color of the Year on the heels of its color palette this summer: Cavern Clay.  A warm terracotta color with ancient, elemental roots, Cavern Clay is a nod to midcentury modern style, but with the soul of the American Southwest, which together creates the desert modern aesthetic."
Inman – "'We're building the next Amazon': Knock CEO Sean Black on Texas expansion and plans to go public" (9-12-2018)
"On 3-year anniversary, the Atlanta-based iBuyer's CEO exclusively reveals new push into Dallas and Fort Worth."
CNBC – "The housing market is 'in an absolute perfect storm for demand,' real estate CEO says" (9-12-2018)
"Millennials seem to want homes just as much as older generations — and that spells a boon for housing demand, Century 21 CEO and president Nick Bailey told CNBC on Tuesday."
Realtor Magazine – "Managing the Disruption From Pocket Listings" (9-12-2018)
"They go by various names—pocket listings, office exclusives, "coming soon" properties—but whatever you call them, the growing phenomenon of off-MLS listings is a reality that practitioners are struggling to come to terms with, especially where inventory is tight."

Bruce Norris will be speaking at the Stay Put or Cash Out with SJREI on Thursday, Septemeber 13.
Bruce Norris will be giving a Market Update with the Chino Valley Real Estate Professionals on Friday, Septemeber 21.
The Norris Group will be presenting its 11th annual award-winning black-tie event I Survived Real Estate 2018 on Friday, September 28.
Looking Back:
How much do you think your house is worth?  Many homeowners seem to be overestimating their value.  Household incomes in the U.S. increased last year to their highest on record by 3.2% as poverty decreased. Prices on homes are increases as demand for rentals continues to increase.
More on Hard Money Loans
Information on Note Investing
Real Estate Investor Education & Resources