Norris Bruce
Feb 13, 2017
Realtor.com Releases List of Top Suburban Areas in America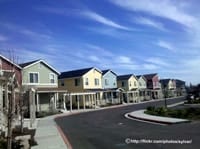 Today's News Synopsis:
Realtor.com released their list of the top suburban areas in America.  A house that remains on the market, still waiting for an owner, is the former home of Lou Gerhrig, which he originally bought as a fixer-upper.  A new chief economist, Mark Calabria, has just been hired by Vice President Mike Pence.
In The News:
New York Times – "Lou Gehrig's Fixer-Upper Awaits a Buyer for the Long Run" (2-12-2017)
"The Iron Horse had brass fixtures in his house. And galvanized steel wiring. He also had clapboard siding, parquet floors and a screened-in porch."
Bloomberg – "It's a Moment of Truth for U.S. Companies" (2-13-2017)
"Say what you will about Donald Trump's economic prescriptions, it's hard to argue he hasn't been a boon for corporate sentiment. A looming question for investors is how that buoyancy will translate when it comes to business spending."
Realtor.com – "America's Suburban Hotspots" (2-13-2017)
"Nationally, strong demand in the real estate market has resulted in active home listings falling by 11% and prices increasing by 10% year over year, as of January 2016. This trend is straining the affordability of homes in markets across the county."
Inman – "What is the best digital advertising for real estate agents?" (2-13-2017)
"Remember the good ol' days of real estate marketing?  You bought a bus sign, sent out a postcard — maybe put your face on a grocery cart — or some other form of "display" advertising. Times have certainly changed, however, and real estate agents can thank the internet for that."
Bloomberg – "Calpers Gave Up $900 Million Since Lowering Allocation" (2-13-2017)
"It has cost the California Public Employees' Retirement System about $900 million since September to reduce its exposure to stocks and private equities as the largest U.S. pension fund sought to reduce risk in its portfolio."
ThinkAdvisor – "Commercial Real Estate Executives Cautiously Optimistic" (2-13-2017)
"The Real Estate Roundtable's first quarter sentiment index, released Friday, registered at 55, up seven points from the pre-election fourth quarter."
DS News – "VP Pence Hires New Chief Economist" (2-13-2017)
"Vice President Mike Pence has named a noted free market advocate as his new head of economics.  Pence named Mark Calabria, former director of financial regulation studies at the Cato Institute, a Libertarian organization based in Washington, D.C., to be his chief economist on Monday."
Los Angeles, California hard money loan closed. Real estate investor received loan for $245,000 on this single family property appraised for $398,000.
Bruce Norris will be speaking at 10 Life-Changing Days of a Real Estate Investor with Alpine Premier Investments on Wednesday, February 15.
Bruce Norris will be speaking at 10 Life-Changing Days of a Real Estate Investor at the San Diego REI Expo on Saturday, February 18.
Bruce Norris will be speaking at 2017 Real Estate Market Forecast with Coldwell Banker on Tuesday, March 7.
Image copyright source: www.flickr.com/photos/sylvar