Norris Bruce
Aug 10, 2017
The Power Struggle Over Real Estate Listings Continues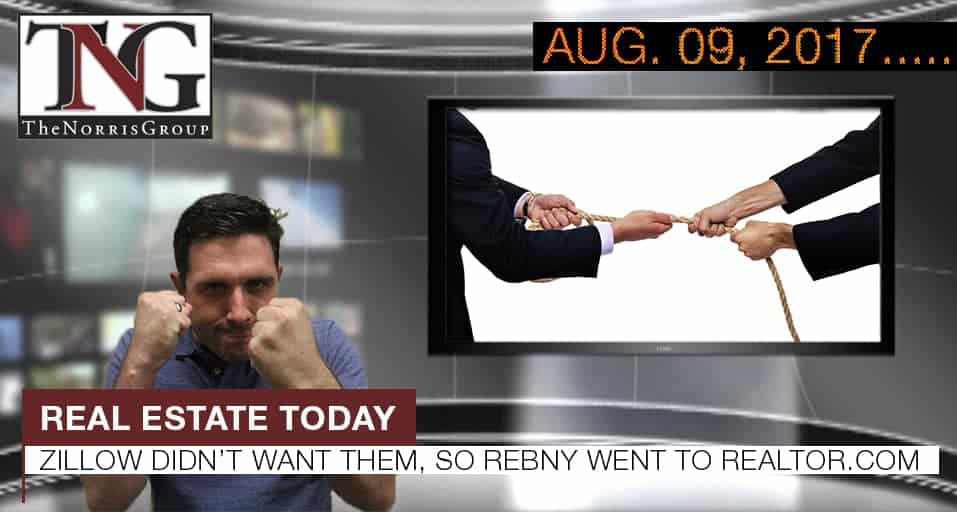 Today's News Synopsis:
The power struggle over real estate listings in New York continues with Zillow and Realtor.com, and REBNY is in the middle.  Mortgage applications increased 3% last week with the recent decrease in interest rates.  Black Knight Financial Services reported foreclosures decreased in June to levels not seen in 16 years.
In The News:
CoreLogic – "CoreLogic Introduces Self-Service Acess to Condosafe" (8-9-2017)
"CoreLogic, a leading global property information, analytics and data-enabled solutions provider, today announced the introduction of CondoSafe Expres a new online, self-service version of its condominium project review solution, that offers easy registration and transactional credit card payment capability."
Black Knight Financial Services – "FirstBank Signs Six-Year Contract for Black Knight's LoanSphere MSP Servicing System and Data-Related Solutions" (8-9-2017)
"Black Knight Financial Services (NYSE: BKFS) announced today that FirstBank, the nation's third largest privately held bank, has signed a six-year contract to implement LoanSphere MSP, Black Knight's industry-leading servicing system, which supports both first mortgages, as well as home equity loans and lines of credit."
Realtor.com – "How Long Is Mortgage Pre-Approval Good For?" (8-9-2017)
"If you want to show sellers you're seriously interested in buying their home, getting mortgage pre-approval is a critical first step. It proves that, after digging through your financials, a lender is willing to give you money to buy a house."
CNBC – "Drop in rates boosts weekly mortgage applications 3 percent" (8-9-2017)
"A drop in interest rates drove homeowners and homebuyers to the mortgage market last week."
DS News – "Market Favoring First-Timers" (8-9-2017)
"The number of foreclosures continued to drop in June, reaching levels not seen since 2001, according to the June Black Knight Mortgage Monitor."
HousingWire – "Zillow CEO responds to new competition from Facebook and Amazon" (8-9-2017)
"As one of the largest, if not the biggest, players in online real estate listings, Zillow is watching its list of competitors rapidly grow with more and more companies eyeing the potential in the real estate market."
Mortgage News Daily – "Low-Downpayment Mortgages Becoming the Norm" (8-9-2017)
"Fannie Mae and Freddie Mac's (the GSE's) low downpayment loans are apparently beginning to cause some pain for FHA lending."
Inman – "NYC brokers find listing partner in Zillow's biggest compeitor:realtor.com" (8-9-2017)
"Zillow rejected the Real Estate Board of New York's (REBNY) recently launched single, centralized syndication feed, the Residential Listing Service (RLS). But REBNY has found a partner in Zillow's biggest competitor — realtor.com."
Bruce Norris will be presenting his latest talk 10 Life-Changing Days of a Real Estate Investor with InvestClub for Women on Wednesday, August 16.
Bruce Norris will be presenting his latest talk 10 Life-Changing Days of a Real Estate Investor with SJREI on Thursday, September 14.
Bruce Norris will be presenting Cashing In On A Boom up in San Jose on Saturday, September 16.
Looking Back:
Redfin recently tested to see if the value of home was affected more greatly in areas where people preferred to walk.  Commercial real estate in Silicion Valley was showing no signs of slowing down despite funding for technology being weak.  The inventory of foreclosures declined 4.9%, putting foreclosures at their lowest since the housing boom.