Norris Bruce
Oct 12, 2017
Can Landlords, Developers and Airbnb Work Together?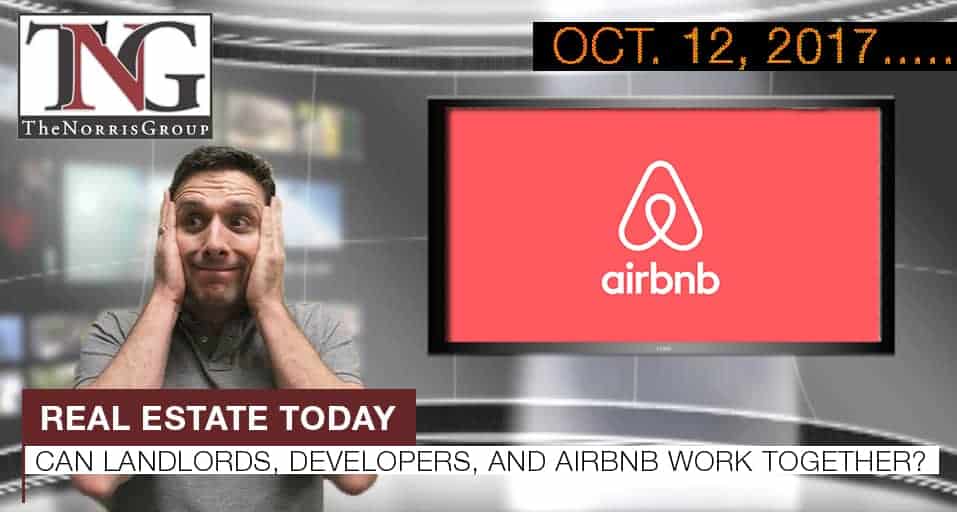 Today's News Synopsis:
Airbnb-Branded Apartment Buildings are headed to the U.S.  Foreclosure filings were at 191,824 in the third quarter, down 13% from the prior quarter and 35% year-over-year, which was also more than an 11-year low.  The latest California Housing Market Report from C.A.R. showed both home sales and median prices are expected to increase next year, but at a slower pace.
In The News:
ATTOM Data Solutions – "U.S. Foreclosure Activity Drops to More Than 11-Year Low in Q3 2017" (10-12-2017)
"ATTOM Data Solutions, curator of the nation's largest multi-sourced property database, today released its Q3 2017 U.S. Foreclosure Market Report™, which shows a total of 191,824 U.S. properties with foreclosure filings — default notices, scheduled auctions or bank repossessions — in the third quarter, down 13 percent from the previous quarter and down 35 percent from a year ago to the lowest level since Q2 2006 — a more than 11-year low."
The Real Deal – "America spends a lot more on homeowner subsidy than on Section 8: report" (10-12-2017)
"In a May interview with the New York Times, Housing and Urban Development Secretary Ben Carson warned against policies that provide "a comfortable setting that would make somebody want to say: 'I'll just stay here. They will take care of me.'""
Freddie Mac – "Mortgage Rates Jump Up" (10-12-2017)
"Freddie Mac (OTCQB: FMCC) today released the results of its Primary Mortgage Market Survey (PMMS®), showing the average 30-year fixed mortgage rate posting its biggest week-over-week increase since July 2017."
Mortgage Bankers Association – "September New Home Purchase Mortgage Applications Decreased 7.5 Percent Year over Year" (10-12-2017)
"The Mortgage Bankers Association (MBA) Builder Applications Survey (BAS) data for September 2017 shows mortgage applications for new home purchases decreased 7.5 percent compared to September 2016."
Bloomberg – "Airbnb-Branded Apartment Buildings Are Coming to the U.S." (10-12-2017)
"People around the world use Airbnb Inc. to rent out their apartments to guests, sometimes rankling building owners and landlords in the process."
California Association of Realtors – "C.A.R. Releases Its 2018 California Housing Market Forecast" (10-12-2017)
" With the economy expected to continue growing, housing demand should remain strong and incrementally boost California's housing market in 2018, though a shortage of available homes for sale and affordability constraints will be a challenge, according to the "2018 California Housing Market Forecast," released today by the CALIFORNIA ASSOCIATION OF REALTORS®' (C.A.R.) ."
Curbed – "Affordable housing and inclusionary zoning study examines paths to inclusive communities" (10-12-2017)
"Inclusionary zoning—programs that encourage the creation of affordable housing units when new development occurs via developer incentives and zoning bonuses—first emerged outside of Washington, D.C. and San Francisco in the mid-'70s."
Newsweek – "Blockchain Used to Sell Real Estate For The First Time" (10-12-2017)
"An apartment in Ukraine has become the first-ever property to be bought and sold using blockchain, potentially heralding a new era of transparent and efficient real estate transactions."
Aaron Norris will be presenting Technology Trends and Real Estate with the California Escrow Association up in San Jose on Friday, October 13.
Bruce Norris presents his California Market Update with Chino Valley Real Estate Professionals on Friday, October 13.
Bruce Norris will be presenting 10 Life-Changing Days of a Real Estate Investor with Robert Hall & Associates on Wednesday, October 18.
Looking Back:
In a big news story, the U.S. Court of Appeals for the District of Columbia declared the CFPB's structure "unconstitutional" and overturned a $109 million fine by the organization against PHH Corp.  370,000 foreclosures were completed the previous month according to CoreLogic.  Fannie Mae's mortgage portfolio continued to dwindle down with their first sale of reperforming loans.