Norris Bruce
Aug 03, 2017
Business As Usual? Not According to New NAR CEO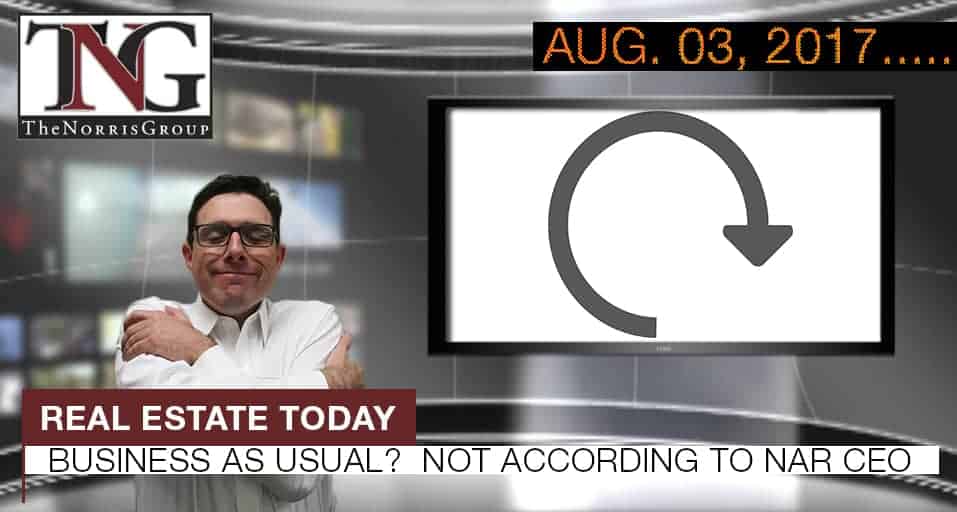 Today's News Synopsis:
The new National Association of Realtors CEO Bob Goldberg says they are set to "embrace disruption."  Zillow reported an increase in the homeless population with rents drastically increasing.  Mortgage rates continue to remain level with 30-year rates at 3.93% and 15-year rates at 3.18%.
In The News:
Freddie Mac – "Mortgage Rates Hold Steady" (8-3-2017)
"Freddie Mac (OTCQB: FMCC) today released the results of its Primary Mortgage Market Survey (PMMS), showing average mortgage rates not deviating much from the previous week."
Bloomberg – "Plans to Rethink America's Malls Can't Keep Up With Retail's Collapse" (8-3-2017)
"Outside Detroit, plans have been in the works for two years to transform the outdated Lakeside Mall into an open-air center with green space and a waterway. With the property in foreclosure and its ownership in limbo, the blueprints will have to be flexible."
NAHB – "Builder Confidence in the 55+ Housing Market Strengthens in Second Quarter" (8-3-2017)
"Builder confidence in the single-family 55+ housing market strengthened in the second quarter of 2017 with a reading of 66, up 11 points from the previous quarter, according to the National Association of Home Builders' (NAHB) 55+ Housing Market Index (HMI) released today."
Zillow – "Rising Rents Lead to Increased Homeless Population" (8-3-2017)
"Rising rents in the nation's booming urban areas are creating crisis levels of homelessness that will continue or even accelerate as rents rise, Zillow research has found."
Bloomberg – "Tesla Finishes First Solar Roofs-Including Elon's House" (8-3-2017)
"First the Model 3 electric car. Now the solar roof. In just one week, Tesla has challenged two distinct industries with radically new products."
Inman – "NAR CEO Bob Goldberg readies to 'embrace disruption' on his first day" (8-3-2017)
"Today is Bob Goldberg's first day as CEO of the National Association of Realtors, and he wants the trade group's 1.2 million members to know his tenure is not going to mean business as usual."
Realtor.com – "What Is Section 504?  Home Improvement Grants and Loans to Modernize Your Home" (8-3-2017)
"In the interest of keeping Americans in good-quality homes, the government created the Section 504 Home Repair program."
Freddie Mac – "Freddie Mac to Initiate New Single Security-Related Investor Disclosures" (8-3-2017)
"Freddie Mac (OTCQB: FMCC) announced today that it will implement new or revised disclosures for single-family fixed-rate and adjustable-rate mortgage-backed securities (MBS)."
Bloomberg – "Is Loan Growth Set to Speed Up or Is It Slowing?  Analysts Differ" (8-3-2017)
"Sometimes, even the driest of data can act like a Rorschach test, with some seeing beauty where others see darkness."
Bruce Norris will be presenting his latest talk 10 Life-Changing Days of a Real Estate Investor with InvestClub for Women on Wednesday, August 16.
Bruce Norris will be presenting his latest talk 10 Life-Changing Days of a Real Estate Investor with SJREI on Thursday, September 14.
Bruce Norris will be presenting Cashing In On A Boom up in San Jose on Saturday, September 16.
Looking Back:
The Mortgage Bankers Association reported a 3.5% decrease in mortgage applications from the previous week.  The latest reports from ADP and Moody's Analytics showed more jobs were added by private companies than was forecasted at 179,000 compared to 170,000.  A new proposal by the County Council would prohibit any and all road signs advertising open houses and sales, which was met with much opposition.