Norris Bruce
Jun 08, 2017
ATTOM Data Solutions Reports Home Flipping at Highest in Nine Years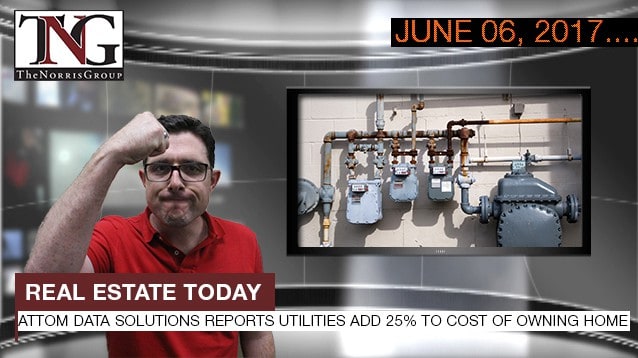 Today's News Synopsis:
According to ATTOM Data Solutions, the first quarter of this year saw 43,615 single-family homes and condos flipped, up to their highest in their 9 years.  The architecture of Frank Lloyd Wright continues to have an influence on home design today, even 150 years after he was born.  Mortgage rates decreased again with 30-year rates now at 3.89% and 15-year rates at 3.16%.
In The News:
CNBC – "US household wealth ticks up 1.4 percent to $94.8 trillion" (6-8-2017)
"Buoyed by higher stock prices, Americans' household net worth rose 1.4 percent to $94.8 trillion in the first three months of this year, a trend that could support future spending."
CoreLogic – "CoreLogic Reports Nearly 9 Million Borrowers Have Regained Equity Since the Height of the Crisis in 2011" (6-8-2017)
"CoreLogic (NYSE: CLGX), a leading global property information, analytics and data-enabled solutions provider, today released its Q1 2017 home equity analysis which shows U.S. homeowners with mortgages (roughly 63 percent of all homeowners) have seen their equity increase by a total of $766.4 billion since Q1 2016, an increase of 11.2 percent"
Realty Trac – "Home Flipping Volume Rises to Nine-Year High in Q1 2017 as Average Flipping Returns Decline for Second Straight Quarter" (6-8-2017)
"ATTOM Data Solutions, curator of the nation's largest multi-sourced property database, today released its Q1 2017 U.S. Home Flipping Report, which shows that 43,615 single family homes and condos were flipped — sold in an arms-length transfer for the second time within a 12-month period — nationwide in the first quarter of 2017, down 8 percent from the previous quarter and down 6 percent from a year ago to the lowest number of homes flipped since Q1 2015 — a two-year low."
Bloomberg – "Real Estate Companies Ditch Paperwork, Get on the Cloud" (6-8-2017)
"Seattle real estate agent Bree Al-Rashid used to spend several hours each week phoning and emailing clients to schedule property tours, producing charts of pricing data in her market, and coordinating house closings."
Freddie Mac – "30-Year Fixed Mortgage Rate Continues to Fall" (6-8-2017)
"Freddie Mac (OTCQB: FMCC) today released the results of its Primary Mortgage Market Survey® (PMMS®), showing the 30-year fixed mortgage rate dropping for the fourth consecutive week and hitting its lowest level in nearly seven months."
Realtor.com – "At 150, Frank Lloyd Wright Is Still a Touchstone for the Homes of Today" (6-8-2017)
"One hundred and fifty years after his birth, Frank Lloyd Wright remains the one architect whose name—and signature style—is well-known to most Americans. And in the world of home design, his influence today seems to extend further than ever."
DS News – "DOJ Policy Change Could Impact Crisis Suit Payouts" (6-8-2017)
"Banks could end up paying out less on suits that sprang out of the housing crisis, due to a recent change in policy announced by the U.S. Department of Justice."
Bloomberg – "Jobless Claims in U.S. Resume Decline Amid Tight Labor Market" (6-8-2017)
"The U.S. labor market remains a bright spot in the economy as fewer Americans filed for unemployment benefits last week, with hiring managers decrying a scarcity of available workers, Labor Department data showed Thursday."
Sacramento, California hard money loan closed. Real estate investor received loan for $170,000 on this single family property.
Aaron Norris will be presenting his latest talk Technology Trends and Effects on Real Estate with NorcalREIA on Wednesday, June 14.
Bruce Norris will be speaking at the NSDREI 13th Anniversary Dinner Party on Tuesday, June 20.
Bruce Norris will be presenting his latest talk 10 Life-Changing Days of a Real Estate Investor with the South Orange County Real Estate
Club on Thursday, June 22.
Looking Back:
Consumers were being warned by HUD to be on the lookout for scammers making false promises of giving a housing grant in exchange for a fee.  In an update on the situation with Dodd-Frank, the House Financial Services Committee chairman Jeb Hensarling and the Republican party presented their plan to replace the act with the Financial CHOICE Act.  A new product similar to low doc loans was launched by a mortgage lender in New York.