Home Prices Are At 2007 Highs But Things Feel Different, Are Different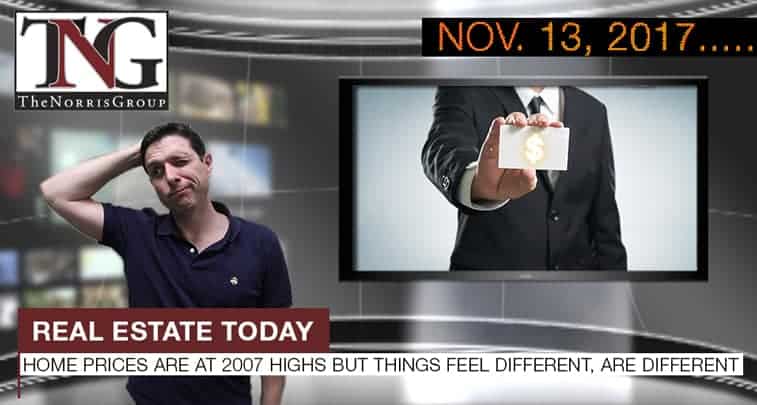 Today's News Synopsis:
What is happening in the market ten years after the Crash?  Big news for the GSEs: Freddie Mac announced their new three-year reference notes security while Fannie Mae announced its fifth repeforming loan sale transaction.  Many realtors believe the new tax plan being pushed by the House Republicans will lead to more renting over owning.
In The News:
Realtor.com – "10 Years After the Crash, the Boom Times Are Back in Real Estate – but Way Different" (11-13-2017)
"As anniversaries go, it's a nerve-racking but inescapable one: It's been 10 long years since the widespread real estate crash that precipitated the Great Recession, and all the misery that followed in its wake."
Freddie Mac – "Freddie Mac Announces the Issuance of a New Three-Year Reference Notes Security" (11-13-2017)
"Freddie Mac (OTCQB: FMCC) announced today that it plans to issue a new three-year USD Reference Notes® security, CUSIP number 3137EAEK1, due on Nov. 17, 2020."
National Association of Realtors – "As Senate Republicans Unveil Tax Reform Bill, Realtors Highlight Importance of Homeownership" (11-13-2017)
"Senate Republicans today unveiled their vision for tax reform with a legislative package that includes the elimination of state-and-local tax deductions and a near doubling of the standard deduction, among other provisions."
Fannie Mae – "Fannie Mae Announces Results of its Fifth Reperforming Loan Sale Transaction" (11-13-2017)
"Fannie Mae (FNMA/OTC) today announced the results of its fifth reperforming loan sale transaction.  The deal, which was announced on October 11, 2017, included the sale of approximately 9,300 loans totaling $2.11 billion in unpaid principal balance (UPB), divided into four pools."
HousingWire – "CoreLogic's Property Tax Estimator helps deliver accurate tax data early in the loan process" (11-13-2017)
"The tax estimating process is critical to several stages of the mortgage cycle: disclosures, underwriting and servicing."
Bloomberg – "Renting Would Beat Owning Under House Tax Proposal, Realtors Say" (11-13-2017)
"Under the tax plan proposed by House Republicans, owning a home would make less financial sense than renting for the great majority of Americans, resulting in "untold negative economic and social implications," the National Association of Realtors said."
Ad Week – "Facebook Marketplace Added Housing Rental Unit Listings From Apartment List, Zumper" (11-13-2017)
"Looking for a new place to live? Try Facebook Marketplace.  The social network teamed up with Apartment List and Zumper to add "hundreds of thousands" of available housing rental units on Marketplace."
Pensions & Investments – "Real estate firms getting foot in technology door" (11-13-2017)
"A variety of real estate players are taking a cue from venture capital investors and making early investments in companies focused on real estate analytics and technology."