Norris Bruce
Aug 28, 2017
Does the Appraisal Industry Need to Adapt?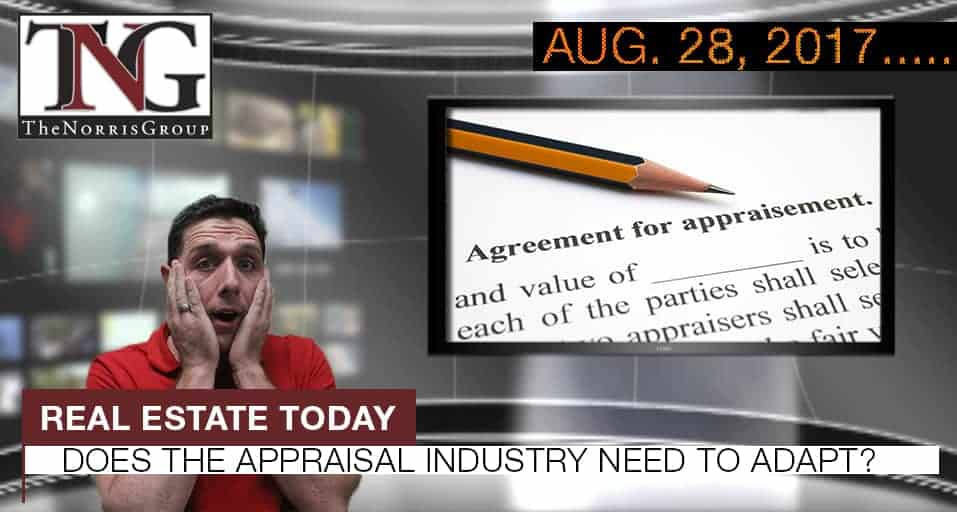 Today's News Synopsis:
HUD announces assistance for Hurricane Harvey victims.  Appraisers respond to Fannie and Freddie "appraisal free mortgage product."  A recent survey from the National Association of Realtors found that 62% of sellers' agents believe staging a home helps it stay less time on the market as well as increases the selling price.
In The News:
HUD – "HUD Announces Disaster Assistance For Victims of Hurricane Harvey" (8-28-2017)
"U.S. Housing and Urban Development Secretary Ben Carson today announced HUD will speed federal disaster assistance to the State of Texas and provide support to homeowners and low-income renters forced from their homes due to Hurricane Harvey."
Realtor.com – "Tapping Your Home Equity for Cash Is Big Again" (8-28-2017)
"Rising home prices are getting borrowers comfortable again with the idea of tapping their homes for cash."
Redfin – "The Wage Gap is Following Women Into Homeownership" (8-28-2017)
"Single women build less home equity overtime than single men, according to a new Redfin analysis of 79,517 homes in purchased in 18 of the largest metros by single women in 2012."
Fannie Mae – "Fannie Mae Reminds Homeowners and Servicers of Mortgage Assistance Options for Gulf Coast Area Impacted by Hurrican Harvey" (8-28-2017)
"Fannie Mae (FNMA/OTC) is reminding those in the Gulf Coast area impacted by Hurricane Harvey of the options available for mortgage assistance."
CoreLogic – "Media Advisory: CoreLogic Analysis Shows More Than 50 Percent of Properties in Houston at High and Moderate Risk of Flood Are Not in Designated Flood Zones" (8-28-2017)
"CoreLogic (NYSE: CLGX), a leading global property information, analytics and data-enabled solutions provider, has conducted an analysis for the flooding occurring as a result of Hurricane Harvey."
National Association of Realtors – "Staging: More Money, Fewer Days on Market, Report Shows" (8-28-2017)
"To many real estate pros, home staging has gone from a luxury to a necessity. The National Association of REALTORS® found in a recent survey that sixty-two percent of sellers' agents believe staging a home decreases the amount of time a home spends on the market, and a third say it increases the selling price."
HousingWire – "Appraisers raise concerns over Fannie, Freddie automated appraisals" (8-28-2017)
"Last week, both GSEs announced their new appraisal-free product for purchase mortgages, and appraisers are already raising concerns over this new step."
Inman – "Judge drops case against Zillow Zestimates" (8-28-2017)
"Zillow Group has emerged unscathed from a legal attack on the Zestimate. On Wednesday a judge threw out the lawsuit alleging that Zestimates constitute illegal appraisals and violate consumer protection laws, granting Zillow Group's motion to dismiss."