Norris Bruce
Oct 10, 2018
A House In NY Was $2500 In The 1850s!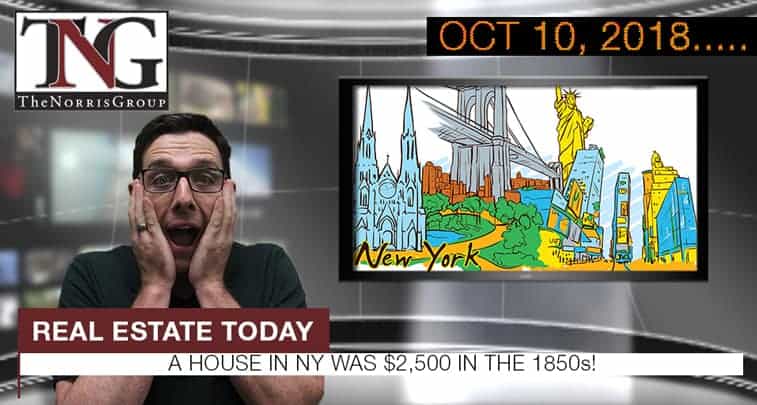 Today's News Synopsis:
How much did it cost to buy a house the decade you were born?  The Mortgage Bankers Association reported a 1.7% decrease in mortgage applications from last week.  More and more homeowners are continuing to put off selling their home.
In The News:
ThinkRealty – "Homeowners Continue to Postpone Selling" (10-10-2018)
"Two in every three homeowners need to sell their existing home in order to purchase a new one.  This is causing homeowners to put off listing their homes at all"
Wall Street Journal – "Younger People Make Palm Springs a Cool Place to Retire (Again)" (10-10-2018)
"Events like the Coachella Festival have transformed the Coachella Valley from sleepy seniors community to a happening destination for all ages."
Mortgage Bankers Association – "Mortgage Applications Decline in Latest MBA Weekly Survey" (10-10-2018)
"Mortgage applications decreased 1.7 percent from one week earlier, according to data from the Mortgage Bankers Association's (MBA) Weekly Mortgage Applications Survey for the week ending October 5, 2018."
Curbed – "The 10 top emerging trends that will shape real estate in 2019" (10-10-2018)
"It's complicated. In the course of compiling its annual Emerging Trends report, the Urban Land Institute found that the only certainty in its outlook for 2019 was uncertainty."
National Association of Realtors – "Realtors Applaud Senate Passage of 2018 WRDA Bill" (10-10-2018)
"National Association of Realtors® President Elizabeth Mendenhall, a sixth-generation Realtor® from Columbia, Missouri and CEO of RE/MAX Boone Realty, issued the following statement after the Senate today voted to pass S. 3021, America's Water Infrastructure Act of 2018."
National Mortgage Professional – "L.A. Escrow Company Accepts Cryptocurrency" (10-10-2018)
"Glen Oaks Escrow, a Los Angeles-based independent escrow company serving the Southern California region, has announced that it is now accepting cryptocurrency."
Family Handyman – "How Much Did It Cost to Buy a House the Decade You Were Born" (10-10-2018)
"It's a given that real estate values fluctuate constantly. Can you believe a new home in Brooklyn, New York, cost just $2,500 in 1853?"
Financial Post – "How blockchain and artificial intelligence will reshape real estate" (10-10-2018)
"Computational advances are seen transforming the mass appraisal market that involves determining the values of groups of properties at a given time."

Bruce Norris will be speaking at the FIBI State of the Economy on TONIGHT.
Bruce Norris will be giving a market update with the Chino Valley Real Estate Professionals on Friday, October 12.
Bruce Norris will be speaking at the Fresno Real Estate Investor Rally on Wednesday, October 17.
Looking Back:
How far would you go to help your kids get a house?  Moody's Investor Services found a larger percentage of household incomes was going toward paying off debts.  Serious delinquency rates remained roughly unchanged at 4.6% according to CoreLogic.
More on Hard Money Loans
Information on Note Investing
Real Estate Investor Education & Resources