Norris Bruce
Sep 11, 2018
8 Charts That Show You How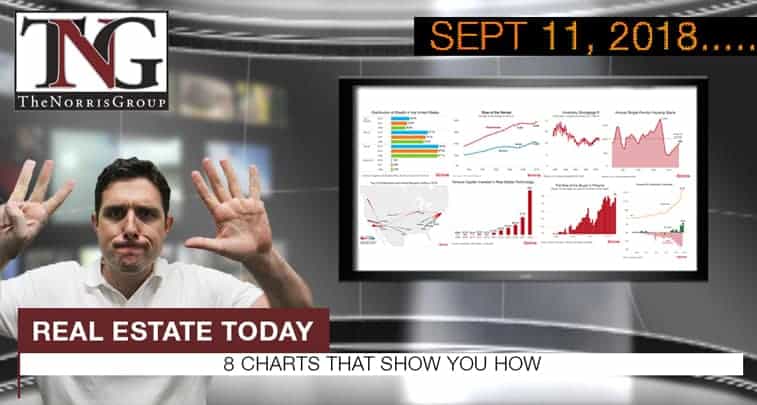 Today's News Synopsis:
What are some unexpected ways the financial crisis changed the world?  The amount of mortgage credit available decreased last month by 0.3% according to the Mortgage Bankers Association.  In a follow-up to ATTOM Data Solutions' report on home flipping, today they relased the best neighborhoods for flipping that house.
In The News:
Mortgage Bankers Association – "Mortgage Credit Availability Decreased in August" (9-11-2018)
"Mortgage credit availability decreased in August according to the Mortgage Credit Availability Index (MCAI), a report from the Mortgage Bankers Association (MBA) which analyzes data from Ellie Mae's AllRegs® Market Clarity® business information tool."
CoreLogic – "CoreLogic Loan Performance Insights Find Overall U.S. Mortgage Delinquency and Foreclosure Rates Lowest for June in 12 Years" (9-11-2018)
"CoreLogic (NYSE: CLGX), a leading global property information, analytics and data-enabled solutions provider, today released its monthly Loan Performance Insights Report."
CNBC – "Investors finally embrace big single-family rental companies a decade after the financial crisis" (9-11-2018)
"A decade ago, when the U.S. housing market collapsed and millions of homes went into foreclosure, a new class of real estate investors was born."
ATTOM Data Solutions – "Best Neighborhoods for Flipping Homes" (9-11-2018)
"For its 2018 Neighborhood Housing Index, ATTOM Data Solutions analyzed potential home flipping returns in 3,573 neighborhoods with sufficient home flipping data."
HousingWire – "Opendoor buying Open Listings to build one-stop shop for home buying and selling" (9-11-2018)
"Opendoor is about to take a huge step forward in its attempt to create a true one-stop shop for the entire real estate experience."
Redfin – "Ten Years Gone: Eight Graphs That Show the Unexpected Ways the Financial Crisis Changed the World" (9-11-2018)
"Ten years ago, on September 15, 2008, the great financial crisis began with Lehman Brothers' bankruptcy. I remember a board meeting in which an investor said her husband was loading the car with bottled water, in case our civilization collapsed."
Wall Street Journal – "The Government May Want to Buy Your Dying Mall" (9-11-2018)
"Local governments across the U.S. are taking over dying shopping malls.  These municipalities, concerned that vacated retail centers will blight the landscape and drag down surrounding property values, have been buying up malls they fear are being starved of capital by the private sector."
CBS News – "Gen Z gearing up to be homebuyers" (9-11-2018)
"The oldest members of Generation Z are setting their sights on home ownership nearly as often as millennials, according to a new survey."

Bruce Norris will be speaking at the Stay Put or Cash Out with SJREI on Thursday, Septemeber 13.
Bruce Norris will be giving a Market Update with the Chino Valley Real Estate Professionals on Friday, Septemeber 21.
The Norris Group will be presenting its 11th annual award-winning black-tie event I Survived Real Estate 2018 on Friday, September 28.
Looking Back:
Will a NAR proposed rule change give you the "MLS of Choice?"    The latest Cost vs. Value Report from Remodeling Magazine showed the top ten home renovations that would give the best and worst ROIs.  The amount of mortgage credit available increased the previous month by 0.7% to 180.2.
More on Hard Money Loans
Information on Note Investing
Real Estate Investor Education & Resources