Norris Bruce
Mar 13, 2018
6 Months of Free Space for Veteran Entrepreneurs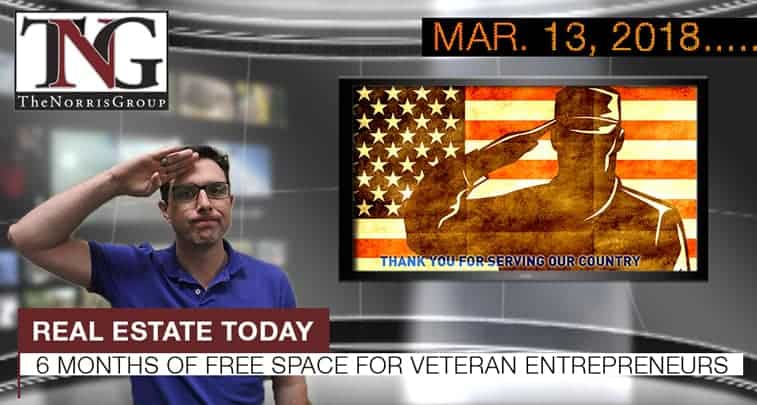 Today's News Synopsis:
Wework launches Veterans in Residence Program.  One thing that could potentially hurt housing affordability is the ever-increasing mortgage rates.  New home purchase applications increased 4.6% in February according to the Mortgage Bankers Association.
In The News:
Zillow – "Rising Mortgage Rates Could Threaten Housing Affordability" (3-13-2018)
"The years of historically affordable mortgage rates look to be ending as rates have steadily increased in recent months and show no signs of turning back."
Realtor.com – "In the Wake of Natural Disasters, Homeowners Struggle to Pay Their Mortgages" (3-13-2018)
"The percentage of homes in foreclosure kept up a monthslong run at their lowest rate in a decade, but more homeowners were late making their mortgage payments at the end of last year—and the recent spate of hurricanes and wildfires is likely to blame."
National Association of Realtors – "Statement from NAR President Elizabeth Mendenhall Regarding S.2155, the 'Economic Growth, Regulatory Relief and Consumer Protection Act'" (3-13-2018)
"The U.S. Senate is considering S. 2155, the Economic Growth, Regulatory Relief, and Consumer Protection Act, and the National Association of Realtors® showed its support with a letter to Senate leadership."
Mortgage Bankers Association – "February New Home Purchase Applications Increased 4.6 Percent Year over Year" (3-13-2018)
"The Mortgage Bankers Association (MBA) Builder Applications Survey (BAS) data for February 2018 shows mortgage applications for new home purchases increased 4.6 percent compared to February 2017."
CoreLogic – "CoreLogic Reports Early-Stage Delinquencies Increased Slightly in December But Serious Delinquency and Foreclosure Inventory Rates Declined Year Over Year" (3-13-2018)
"CoreLogic (NYSE: CLGX), a leading global property information, analytics and data-enabled solutions provider, today released its monthly Loan Performance Insights Report which shows that, nationally, 5.3 percent of mortgages were in some stage of delinquency (30 days or more past due, including those in foreclosure) in December 2017."
The Mercury News – "Millennials – paying the rent, hoping for help later" (3-13-2018)
"It's not an easy time to be young and low-paid in the Bay Area.  But most millennials are still making their own way — only about 1 in 10 in the region get help from their parents to pay rent, according to a new study by Apartment List."
Sacramento Bee – "How two smart California laws kept the 2008 mortgage crisis from being far worse" (3-13-2018)
"A decade after the mortgage crisis swept California, home prices are rising, far fewer borrowers are under water, and the state's economy and government's finances are strong."
BisNow – "WeWork Launches Veterans In Residence Program In San Francisco, Other Metros" (3-13-2018)
"For veteran Michael Nemke, creating a startup is like being in the armed forces.  During his 10 years in the U.S. Army Special Forces and the Green Berets, he worked in small teams and lived within communities to develop internal resources to repel crime and build better communities."
Jurupa Valley, California hard money loan closed. Real estate investor received loan for $257,000 on this single family property appraised for $405,000.
Bruce Norris will be presenting Stay Put or Cash Out with NorcalREIA on Wednesday, March 14.
Bruce Norris will be presenting Cashing In On A Boom: Investing In Quadrant 4 With Bruce Norris in Sacramento on Saturday, March 17.
Bruce Norris will be presenting Stay Put or Cash Out with IVAR on Wednesday, April 4.
Looking Back:
More and more people were willing to take more risks when borrowing mortgages, which was raising more concerns.  For the first time this year but fifth time overall, Freddie Mac priced their whole loan securities.  A recent decision by a Federal Court in New York allowed foreclosures to take place much faster than before.