Norris Bruce
Jun 13, 2019
Americans Higher Up In The Income Spectrum Feeling The Pinch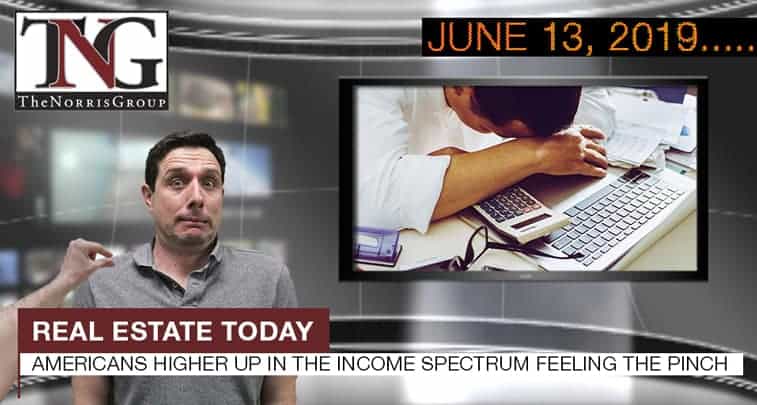 Today's News Synopsis:
Hey, middle class, the housing crisis is coming for you next.  Mortgage rates continue to hold steady with 30-year rates at 3.82% and 15-year rates at 3.26%.  What were the hottest real estate markets for May 2019?
In The News:
Freddie Mac – "Mortgage Rates Hold Steady" (6-13-2019)
"Freddie Mac (OTCQB: FMCC) today released the results of its Primary Mortgage Market Survey (PMMS), showing that the 30-year fixed-rate mortgage remained unchanged from last week at 3.82 percent."
Mortgage Bankers Association – "May New Home Purchase Mortgage Applications Increased 20.1 Percent" (6-13-2019)
"The Mortgage Bankers Association (MBA) Builder Application Survey (BAS) data for May 2019 shows mortgage applications for new home purchases increased 20.1 percent compared from a year ago."
Realtor.com – "The Hottest Real Estate Markets in America, May 2019: Color Us Surprised!" (6-13-2019)
"As we closed the books on May, even the hottest real estate markets in America were just coasting along, with the typical property selling no faster than at the same time last year."
Curbed – "Hey, middle class, the housing crisis is coming for you next" (6-13-2019)
"Charlotte, North Carolina, one of the Southeast's biggest cities, is short 34,000 affordable housing units. A booming job market has attracted 100,000 new households to the city since 2000, and supply hasn't kept up with demand."
MarketWatch – "With mortgage rates at 2-year lows, here's how to decide whether to refinance your home loan" (6-13-2019)
"As mortgage rates have dropped this year, more mortgage borrowers are considering refinancing."
DS News – "Ability to Close Remotely Now Available" (6-13-2019)
"NotaryCam, a provider of online notarization and mortgage eClosing solutions, announced that Fidelity National Financial (FNF), will allow the use of NotaryCam to deliver remote online notarization (RON) and remote online closing (ROC) capabilities to FNF's network of direct title and settlement operations, as well as its network of independent title agents."
National Mortgage News – "Most millennial renters expect to buy a home in the next five years" (6-13-2019)
"Approximately two-thirds of millennial and Generation-Z renters expect to purchase a home in the next five years, although their aspirations for homeownership slipped from a year ago, a Pulsenomics survey found."
U.S. News – "How Many Homes Does It Take for First-Time Buyers to Find the One?" (6-13-2019)
"The time has come when you have decided that it's time to put down roots – permanent ones."

Bruce Norris will be speaking at the Southern California Appraisal Institute's 22nd Annual Inland Empire Market Trends TODAY.
Aaron Norris will be featured on the panel at NAHREP's event Hot Topics: How To Get Your Business In Shape on Thursday, June 13.
Bruce and Aaron Norris will be speaking at the NSDREI 15th Anniversary Dinner Party on Tuesday, June 18.
Looking Back:
What were 5 issues impacting real estate on this day?  Vacation home markets had not fully recovered from the housing crisis when it came to the value of their homes.  Foreclosures rates were at an 11-year low at 0.6%.
More on Hard Money Loans
Information on Note Investing
Real Estate Investor Education & Resources