Norris Bruce
Apr 28, 2007
Leslie Appleton-Young of CAR #13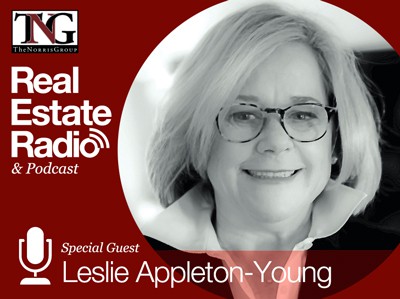 Join Bruce and California Association of Realtors chief economist Leslie Appleton-Young as they discuss C.A.R.s expanding membership, how the Internet has changed the business, and where the California market is headed. Will membership decline in the coming market? And what are "DNA Sales" Leslie?
Leslie Appleton-Young is Vice President and Chief Economist for the California Association of REALTORS® (C.A.R.), a statewide trade organization with over 195,000 members dedicated to the advancement of professionalism in real estate.
Mrs. Appleton-Young directs the activities of the Association's Member Information Group. She oversees the analysis of housing market and brokerage industry trends, member communications, and membership development activities. She is also closely involved in the Association's strategic planning efforts and is a well-known speaker in California's real estate community.
Before joining C.A.R. in 1984, Leslie Appleton-Young was a consultant with Telesis Inc. in Rhode Island. She also spent several years working as a research associate at the Federal Reserve Bank of Philadelphia and as an instructor at the University of Pennsylvania.
Mrs. Appleton-Young earned a Bachelor of Arts degree in economics from the University of California, Berkeley, and her Masters from the University of Pennsylvania.
For more information about The Norris Group's California hard money loans or our California Trust Deed investments, visit the website or call our office at 951-780-5856 for more information. For upcoming California real estate investor training and events, visit The Norris Group website and our California investor calendar. You'll also find our award-winning real estate radio show on KTIE 590am at 6pm on Saturdays or you can listen to over 550 podcasts in our free investor radio archive.