Today's News Synopsis:
Mortgage rates are down low enough for the spring, below their peak at this time last year with 30-year rates at 3.68% and 15-year rates at 2.96%.  The Mortgage Bankers Association reported a 24% increase in new home purchase applications last month.  The latest STACR transaction by Freddie Mac totalled $475 million.
In The News:
DS News – "Freddie Mac Prices Credit Risk Transaction at Nearly a Half Billion Dollars" (3-10-16)
"Freddie Mac priced its second Structured Agency Credit Risk (STACR) transaction of 2016 at $475 million, according to an announcement from Freddie Mac."
Realty Trac – "Better to own near Walmart or Target?" (3-10-16)
"Chances are most homeowners are frequent visitors to their neighborhood Walmart or Target, more often than their bank account would like."
Mortgage Bankers Association – "Applications for New Home Purchases Increased in February" (3-10-16)
"The Mortgage Bankers Association (MBA) Builder Application Survey (BAS) data for February 2016 shows mortgage applications for new home purchases increased by 24 percent relative to the previous month. This change does not include any adjustment for typical seasonal patterns."
Bloomberg – "Americans' Home Wealth Recovers $7 Trillion as Prices Firm" (3-10-16)
"In March 2014, Steven and Bernadette Doherty paid $183,000 for a two-bedroom home in Charlotte, North Carolina, $6,000 more than its appraised value. Today, similar houses in the neighborhood are being priced at $300,000 or more."
DS News – "Borrower Equity Continues to Rise" (3-10-16)
"HUD Secretary Julián Castro recently said that homeownership is "still an important tool to build wealth in our country and pass that wealth on." Based on CoreLogic's Q4 2015 Equity report released Thursday, a lot of wealth is being built in America."
Mortgage Professional America – "House committee set to grill CFPB head over alleged abuses" (3-10-16)
"The director of the Consumer Financial Protection Bureau will face questions from lawmakers next week about whether the agency's activities are harming consumers."
Housing Wire – "Mortgage rates well below end-of-2015 level for spring home-buying season" (3-10-16)
"Despite increasing for the second week in a row, mortgage rates are still well below levels seen at the end of last year.  According to Freddie Mac's latest Primary Mortgage Market Survey for the week of March 10, this is only the second increase this year, making mortgage rates very attractive for the upcoming spring home-buying season."
Bloomberg – "How Central Banks Have Made Wealth Inequality Worse" (3-10-16)
"Central banks' attempts to kick-start advanced economies following the financial crisis have made the gap between the rich and poor wider, suggests the Bank for International Settlements."
Beaumont, California hard money loan closed. Real estate investor received loan for $230,000 on this single family property appraised for $349,000.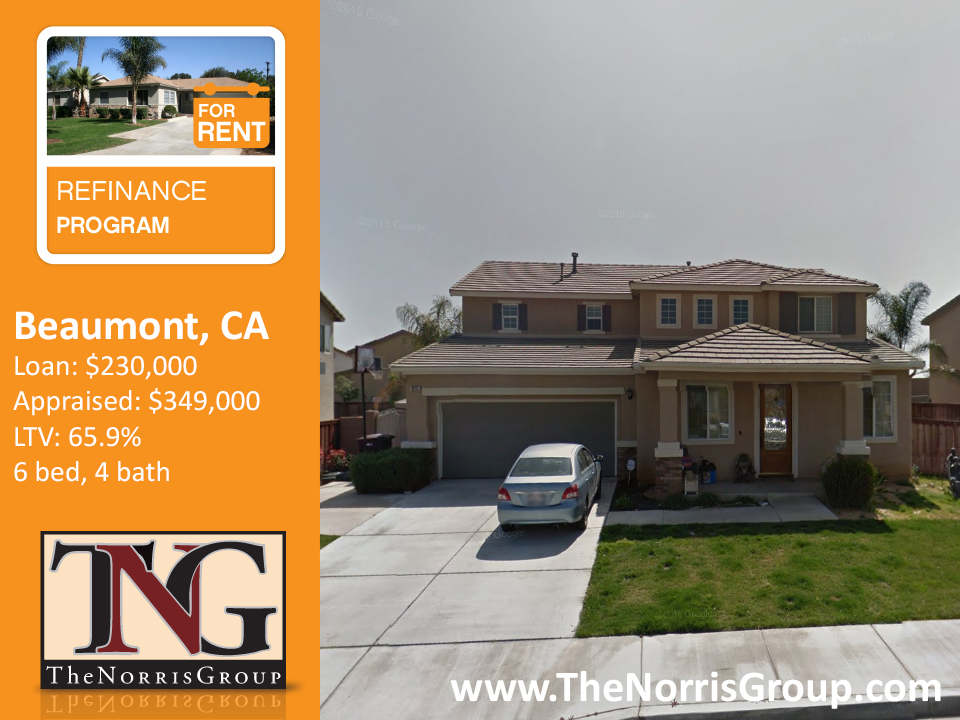 Bruce Norris will be presenting his newest talk Stay Put, Cash Out, Or Change Seats? with OCREIA TONIGHT, March 10.
Bruce Norris will be presenting Cashing in on a Boom: Investing in Quadrant 4 in Sacramento on Saturday, March 19.
Aaron Norris will be presenting his newest talk Marketing Trends and Strategies for Real Estate Pros in 2016 with FIBI Long Beach on Thursday, March 31.