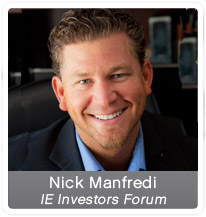 Wow… 2012 was great. This month's deals are flying around my friends and team like crazy! It's very exciting to once again see the exhilaration in their eyes and hear it in their voices. I expect 2013 to be a continuation of 2012 as we maintain relationships with trustworthy investors that have buy/flip deals, and cash partners with great hearts that seek joint- venture flips or trust deed investments.
The hearts and minds of those who surround you in your business life will have the same effect as those in your personal life. If your wife is a genuine and loving person, you're far more likely to have a successful marriage. If you surround your real estate business with genuine and loving people, you're far more likely to experience real estate success; how blessed is the guy that has a genuine and loving wife who's also his business partner?.
So my encouragements in 2013 would be:
1. Invest the time it will take for you to become a more genuine and caring investor. Commit yourself to liking or even loving others more than you do today and watch what happens.
2. Remember: THIS BUSINESS IS BETTER CAUGHT THAN TAUGHT. There are a few posers out there, so get in an environment where you can confirm the type of deals that interest you are "in -fact" closing. If you don't yet have your real estate license, go get it, find a few solid investors and work with them. By working along side a few good investors, you'll catch on fast, and your confidence will grow as you see them closing deals, and earning profits. At all costs, help them prosper while earning something for your self in wholesale fees and/or agent commissions. You'll do well to simply focus your efforts on becoming (or remaining) the best buyer you can be. Do this for the next four years, and your cup will be full.
Good luck and God bless!
Connect with The Manfredi Group