Today's News Synopsis:
More and more people are willing to take more risks when borrowing mortgages, which is raising more concerns.  For the first time this year but fifth time overall, Freddie Mac priced their whole loan securities.  A recent decision by a Federal Court in New York will now allow foreclosures to take place much faster than before.
In The News:
CNBC – "Concerns about riskier mortgages are sprouting" (3-12-2017)
"Riskier borrowers are making up a growing share of new mortgages, pushing up delinquencies modestly and raising concerns about an eventual spike in defaults that could slow or derail the housing recovery."
Bloomberg – "Wall Street Has Found Its Next Big Short in U.S. Credit Market" (3-13-2017)
"Wall Street speculators are zeroing in on the next U.S. credit crisis: the mall.  It's no secret many mall complexes have been struggling for years as Americans do more of their shopping online."
Freddie Mac – "Freddie Mac Prices First Whole Loan Securities of the Year" (3-13-2017)
"Freddie Mac (OTCQB: FMCC) announced the pricing of its fifth Freddie Mac Whole Loan Securities(SM) (WLS(SM)) transaction, an offering of approximately $640 million of guaranteed senior and non-guaranteed subordinate actual loss securities."
DS News – "Foreclosure Process in NY Expedited by Federal Ruling" (3-13-2017)
"A pivotal Federal Court decision concerning court jurisdiction for foreclosure lawsuits in New York was handed down on March 1, 2017, by Judge Nicholas G. Garaufis, United States District Judge for the Eastern District of New York."
Realtor.com – "What Do All Those Real Estate Listing Terms Really Mean?" (3-13-2017)
"Call it what you will—jargon, shorthand, lingo—but every industry has its own language, a collection of terms that are essential to understand if you hope to play ball."
Bloomberg – "Hedge Funds Exit Emerging-Market Assets as Real Money Swoops In" (3-13-2017)
"Short-term investors are escaping emerging markets ahead of a likely U.S. interest-rate hike this week amid concern a strengthening dollar will undermine credit quality in developing nations."
Mortgage News Daily – "Jobs vs Rates; Zillow, CFPB, & RESPA in the Spotlight?" (3-13-2017)
"It seems the general public is not moving. Not because they don't way to, but because of… the influence of government regulations!?  Lenders took great interest when ReMax Gold Coast and Keller Williams Mid-Willamette were fined by the CFPB, along with Prospect Mortgage, LLC. The reason? Illegal kickbacks relating to mortgage business referrals."
The Hill – "Kushner family to make $400M from real estate deal with Chinese firm: report" (3-13-2017)
"Kushner Companies, the real-estate developer owned by the family of Jared Kushner, is set to make $400 million off a deal with the China-based Anbang Insurance Group, Bloomberg reported on Monday."
Mentone, California hard money loan closed. Real estate investor received loan for $161,000 on this single family property.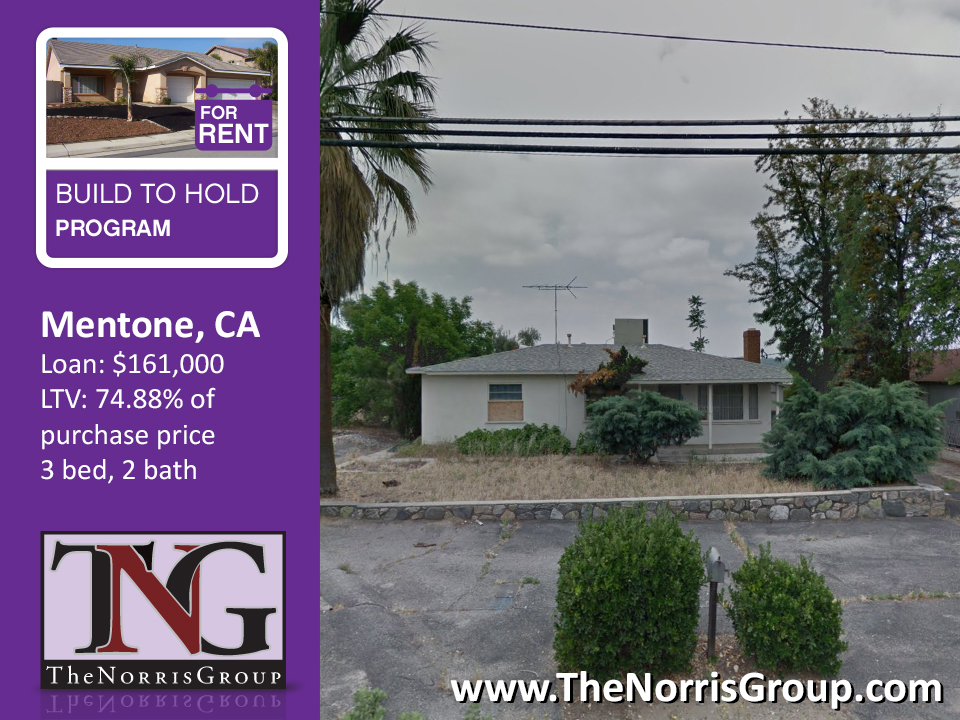 Bruce Norris will be speaking at 10 Life-Changing Days of a Real Estate Investor with LA South REIA on Monday, April 10.
Bruce Norris will be speaking at 10 Life-Changing Days of a Real Estate Investor with Pasadena FIBI on Thursday, April 20.
Bruce Norris will be speaking at the AOA "Million Dollar" Trade Show & Landlording Conference in Long Beach on Wednesday, May 24.
Image copyright source: www.flickr.com/photos/derekgavey
Tags: bruce norris, freddie mac, hard money, Hard money lender, hedge funds, Jared Kushner, Kushner Companies, private money, real estate investing, The Norris Group. Aaron Norris, trust deeds, Whole Loan Securities